Top Reasons for Using Hand Held Spray Guns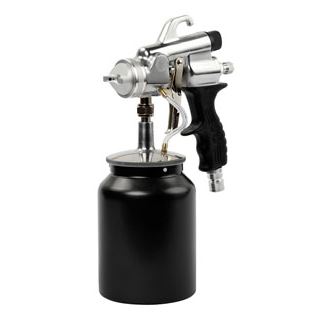 July 21st
Hand held spray guns are great tools for any decorating task, but what are the top reasons for using a paint spray gun?
Speed
If you have limited time on a decorating project, a paint sprayer is a great option. Using a paint spray gun is much faster than traditional paint brushes or rollers. This is because the small paint particles that come out of the spray gun produce a rapid full paint coverage of an area. This is particularly good for tricky areas, such as wall corners or tight spaces that rollers can't normally reach.
If you're new to using a paint spray gun, it may take some getting used to. It is easier for a DIY novice to start by using the spray gun on furniture as opposed to a wall. It can take a while to set up and prepare, which may not be beneficial for small DIY projects.
Choice of sizes
Paint spray guns come in a range of different sizes and forms that are suited for lots of different people - from regular DIYers, to professional painters and decorators. Popular types of spray guns include air spray guns and hvlp spray guns. Air spray guns use air compression to expel the paint out.
Paint spray guns can be electric or gas powered; We are proud stockists of Binks, Iwata, Wagner and DeVillbiss air spray guns. Wagner and Iwata are great electric air spray guns and DeVilbiss have the JGA which is a gravity fed spray gun.
Smooth paint coverage
Another benefit of a paint spray gun is the even finish that's achieved; the fine paint mist ensures that all surfaces are reached, unlike paint rollers or brushes. Using a paint spray gun is ideal for more difficult things, such as stairs or furniture, in particular a HVLP spray gun (read more about HVLP guns below).
When using a spray paint gun, you must bear in mind that an uneven finish can occur if there is too much of an overlap with the previously painted section. If the paint is high sheen, this will be more noticeable.
HVLP spray guns
HVLP stands for High Volume Low Pressure and is a popular choice for painting projects. HVLP spray guns are renowned for their excellent performance and coverage.
As HVLP spray guns have more air than pressure, more paint is emitted from the gun onto the surface you're painting. This means that there is less wasted paint, as it doesn't overspray. These types of guns are more environmentally friendly due to lessened pollution.
It is also estimated that using a HVLP spray gun can reduce the costs of paint by up to 30%; this is down to both a more efficient transfer, and less overspray.
Stay protected
Paint spray guns are more risky to use than a paintbrush, and the obvious reason is because of the pressure used to eject the paint. The nozzle is also a hazard as it can cut your fingers, so you need to ensure that you are taking the correct protective measures when using a spray gun. We recommend using Personal Protective Equipment (PPE). If you'd like to brush up on your spray painting knowledge, take a look at our Spray Painting Training Courses.